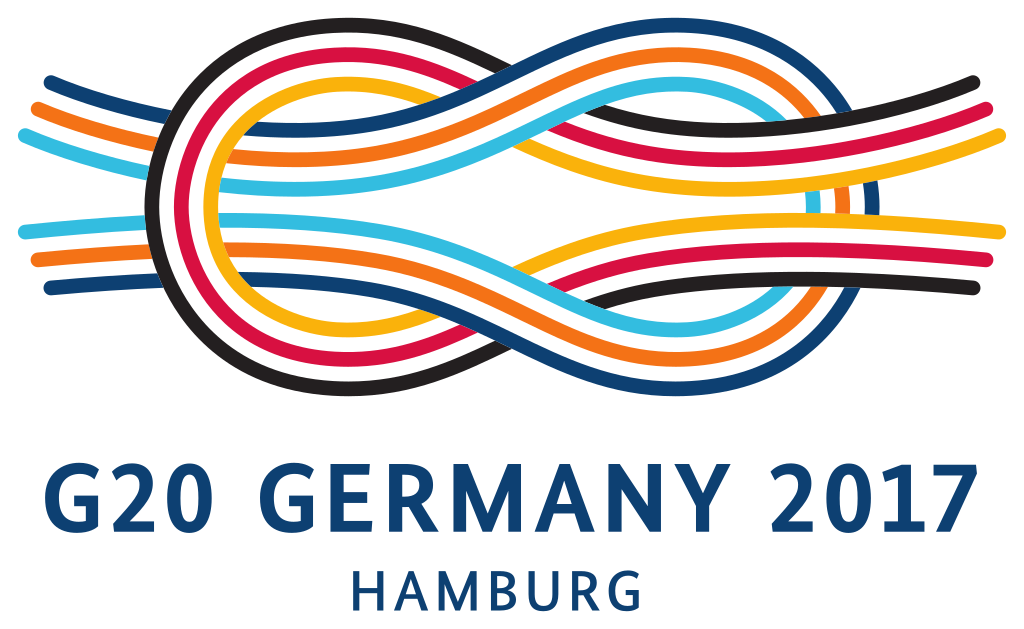 The 2017 G20 Hamburg, Germany summit is the 12th meeting of the Group of Twenty (G20)
Want to know what the globalists are planning?
Then pay attention to the central bankers and finance ministers!
The G20 (or G-20 or Group of Twenty) is an international forum for the governments and central bank governors from 20 major economies founded in 1999.


The theme of the German presidency of the G20 is 'Shaping an interconnected world'.
The President of the European Council and the President of the European Commission will represent the EU at the summit.
The President of the European Council Donald Tusk and the President of the European Commission Jean-Claude Juncker presented the key issues for the summit in a joint letter sent to EU heads of state or government:
role of G20 in making the global economy work for all
open and fair rules-based multilateral trading system and resilient international monetary and financial system
economic benefits of climate action and the potential of the digital revolution
tax avoidance and evasion
fight against terrorism and terrorist financing
shared responsibility for refugees and migrants, and partnering with Africa for investment, growth and jobs
Read: Joint letter of Presidents Donald Tusk and Jean-Claude Juncker on the upcoming G20 summit
Hamburg will host the twelfth G20 Summit on the 7th and 8th of July, 2017. More than twenty Heads of State or Government as well as representatives of international organisations will meet at the Messehallen Convention Centre. hamburg.com…
.
RELATED:
https://ronmamita.wordpress.com/2013/08/11/2013-hegemony-global-finance-and-commerce/
https://ronmamita.wordpress.com/2013/09/18/pension-funds-someone-or-everyone-is-lying/
https://ronmamita.wordpress.com/2013/12/11/are-central-planners-capable-of-managing-the-global-financial-collapse/
https://ronmamita.wordpress.com/2014/02/24/australia-hosted-the-g20-summit-this-past-weekend/
https://ronmamita.wordpress.com/2014/11/15/war-mongers-crash-the-g20-summit/
https://ronmamita.wordpress.com/2014/11/20/aware-alert-institutional-crime-and-ponzi-economy/
https://ronmamita.wordpress.com/2015/01/15/g20-finance-and-central-bank-deputies-met-december-2014-to-set-stage-for-2015/
https://ronmamita.wordpress.com/2015/06/30/the-hidden-institutional-agenda-is-visible-and-predictable/
https://ronmamita.wordpress.com/2015/07/06/institutional-orders-are-to-hurry-up-follow-the-dmn-script/
https://ronmamita.wordpress.com/2015/07/23/the-permanent-war-that-most-people-are-unaware-of/
https://ronmamita.wordpress.com/2015/08/01/how-to-herd-people-into-new-world-order-institutional-governance-by-crisis-management/
https://ronmamita.wordpress.com/2016/03/03/corporate-sponsored-how-to-manage-civilization-via-crises/
https://ronmamita.wordpress.com/2016/04/14/g20-gang-of-twenty-banksters/
https://ronmamita.wordpress.com/2017/03/19/g20-turmoil/
https://ronmamita.wordpress.com/2017/04/23/are-fears-of-escalating-trade-currency-war-over/
https://ronmamita.wordpress.com/2017/04/27/is-a-power-struggle-boiling-over-in-europe-or-is-the-euro-burning/
___________________________________