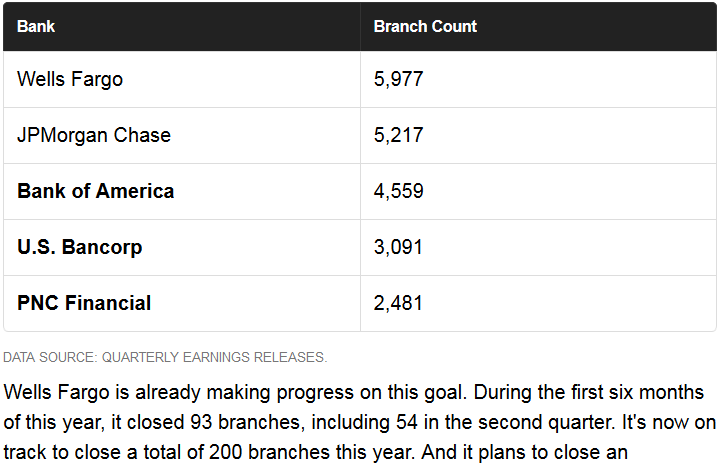 Vigilantly watching the banks for signals of what is to come…
Banks Are Signaling
A major slowdown in the Economy, and possibly preparing for automated services and bots for the digital economy to come.
Furthermore, I expect to see more consolidation in the financial industry where only the Too Big To Jail (G-SIFI) are left operating in this protection racket ponzi economy.
The financial industry's Buzz-phrase is "digital channels" and they will hype up the wonderful self-service, efficiency, cost savings and how customers love fast digital banking!
Wells Fargo has placed an emphasis on growing its digital distribution channels. As of the end of the second quarter, in fact, the California-based bank has more active digital users than it does primary checking accounts, with 27.9 million digital active customers versus 23.6 million primary consumer checking customers. –fool.com
Keep another watch for more mergers, corporate buy-outs, and bankruptcies coming soon.
Related Posts:
Central Banks and VISA Pay Businesses To Go Cashless?
Banning Cash Solves Global Economic Problems, says Harvard economics professor!
You Should Feel The Forced Herding Down The Digital Economy, Unless You Are Too Young…
The Banking Cartel Want You Accustomed To Virtual Currency
Evidence of The Globalists' Plans
Oh-oh, Goldman Sachs Has A Cryptocurrency Patent!
G20 Has Commitments Vowed All Citizens Be "Digitally Connected" By 2025
---