– Institutional Battlefield –
A rarely reported bitter truth is that the change Americans are seeking will not come from the government, (President, Congress, and the Courts are all compromised and hampered by the corrupt Deep State status quo establishment) thus the change shall come from the American People.
Let's be clear, America is experiencing a very real institutional crisis …
…that has the ability to unleash every type of disruptive and seditious disaster possible, including but not limited to assassinations, election rigging, market collapse, riots, government shutdown, impeachment, electrical power grid failure, and mass deaths.
With at least two factions fighting for control of the U.S. corporate apparatus, Americans are getting a long exposure image of the Deep State Conspiracy and the establishment that control Wall Street, Mass Media, and Government to manipulate society down a destructive path.
More Americans are no longer silent, are speaking out more frequently and being more active.
More Americans are filing legal complaints against government officials and news corporations and social media tech giants.
More Americans are sharing documented evidence of corruption and fraud over the internet.
Are we witnessing a mass awakening?
Who still trust the corporate mass media?
Who still trust the corporate controlled government?
Who believe the Deep State will surrender, deactivate its sleeper cells and contingency plans?
– Institutional Crimes –
The phrase "Fake News" has summed up the corporate controlled news adroitly.
And when aware independent media reveal corruption and fraud inside powerful institutions the reaction is very telling.
Government Bribes are called campaign contributions and lobbying.
Americans are bombarded with propaganda, political spin, psyops, and other forms of mass deception.
Corporate Giants are too big to jail and fail, and are given unlimited tax payer funds for liquidity or to bail 'em out of bankruptcy!
Battlefield U.S.Gov: Domestic & Foreign Seditious Conspiracy
Must read:
McCabe and Strzok Caught Destroying Evidence During Final Days at FBI…
https://truepundit.com/mccabe-and-strzok-caught-destroying-evidence-during-final-days-at-fbi-huber-is-running-a-grand-jury/
§
Title: Deep State Unmasked: State Dept on Hidden Cam "Resist Everything" "I Have Nothing to Lose"
Posted 18 Sep 2018 by Project Veritas
[…]
Title: James O'Keefe Exposes Deep State Socialist
Posted 18 Sep 2018 by Conservative Citizen
The video features the State Department employee, Stuart Karaffa, engaged in radical socialist political activity on the taxpayer's dime, while advocating for government resistance.
Stuart Karaffa is also a ranking member of the Metro DC Democratic Socialists of America (Metro DC DSA.) Stuart Karaffa is just the first federal government employee that Project Veritas has filmed in an undercover series unmasking the deep state.
More video reports are to be released soon.
https://www.projectveritas.com/
Twitter: https://twitter.com/Project_Veritas
The London Connection – Operation Deception
– AKA operation "Crossfire Hurricane" –
MI6 former operative Christopher Steele "Desperate to stop Donald Trump" from becoming the U.S. President.
[…]

RATS and more rats!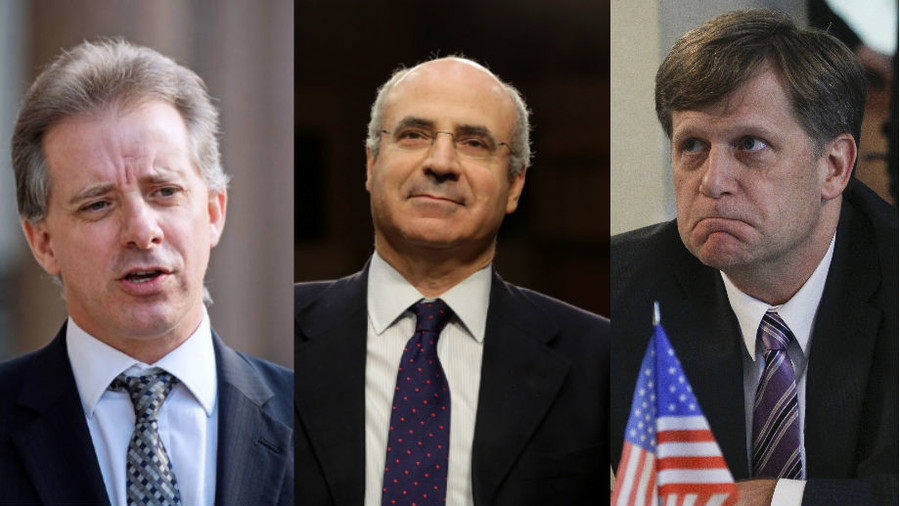 Christopher Steele (Getty Images) William Browder and Michael McFaul (Reuters) Russia wants to question Christopher Steele, Michael McFaul, top politicians for aiding Bill Browder Published: 17 July 2018
§
Title: Rep. Jim Jordan on Trump Declassifying FISA Documents
Posted 18 Sep 2018 by Conservative Citizen
Title: Are Media Matters and George Soros Behind Social Purge?
Posted 13 Sep 2018 by Ben Swann
…
ARCHIVES:
Globalists' Disruptive Strategy: Twitter Censored Center for Immigration Studies!
The Cross-Atlantic-Swamp Connections
The Permanent State Is The Deep State
FBI's Spygate Contagion Spreads To Congress
Injustice at the DOJ-FBI is more than a few bad cops
Will Americans Ever Cut The U.S. Puppet Strings?